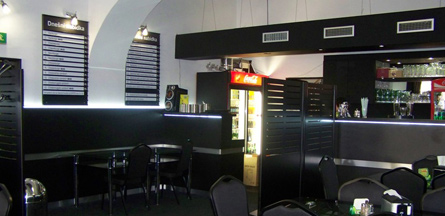 The restaurant Paris Jicin offers non-smoking environment with the possibility of several types and variations of snacks.
From 10:00 a.m. to 3:30 p.m. We serve meals (choice of min. 15 meals)
from 10:00 a.m. to 9:30 p.m. snack prepared from fresh domestic product (hamburgers, cheeseburgers, sandwiches, nuggets in cheese or spicy batter, salads and much more)
from 3:30 p.m. to 9:30 p.m. fast food (permanent menu)
In summer restaurant offers comfortable seating on the outdoor terrace overlooking the square. Come and try our specialties!
We look forward to your visit!
Opening hours:
Mo - Sun
10:00 a.m. - 10:00 p.m.